Bearing wrapping machine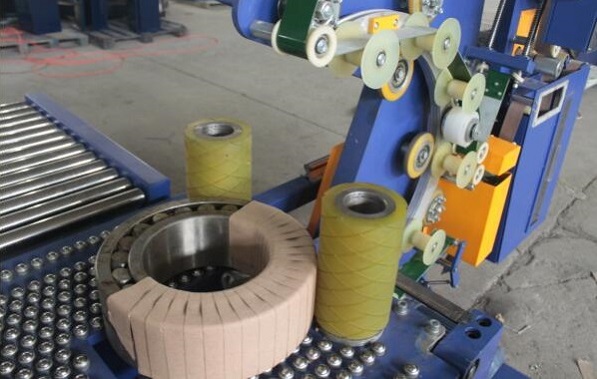 Description:
Bearing wrapping machine is mainly used to the big size bearing and axletree packaging requirement. It improving the packing quality and efficiency packing speed in saving labor cost and packing cost.
Features of bearing packing machine:
Control:
l 1. The machine can be connecting with production line with automatic bearing wrapping.

l 2. PLC & HMI are adopted for automatic operation.
l 3. Automatic centralized positioning for bearing packaging
l 4. Sensors for checking position of the wrapping position.
l 5. Automatic conveyors for loading and unloading.
l 6. Manual and automatic bearing packing mode can be choosing.
l 7. Indicator alarms automatically when trouble occurs. Trouble can be shown automatically.
l 8. Soft stop & start.
l 9. Ring reset function
l 10. Ring jog.


Operation for bearing packing machine:
l1. The converters adopted to adjust the overlap of the packing tape according to requirement.
l 2. Speed of the ring and rollers are adjustable by converters.
l 3. Simple operation by imputing OD. ID. width & corrected parameter of coiled metal. Other parameters will be set automatically.
l 4. Guardrails, soft starts and stop for safety operation.
l 5. It can be connect with production line for auto bearing packing.
l 6. Packaging tension is adjustable.
l 7. Special brake for the tape release device to avoid material folding.
l 8. Automatic material cutting the feeding system.
Parameters:
Bearing Packing Machine
FPC-200
FPC-300
FPC-400
Voltage (V/Hz)
AC 380/50( or your requirement)
Power (KW)
1.5
1.8
2.5
Bearing ID(mm)
150-400
300-600
300-900
Bearing OD(mm)
250-450
700-1000
700-1200
Bearing width(mm)
10-100
20-200
50-300
Bearing Weight(Kg)
5-20
20-200
100-500
Packing material
Goffered paper/PE/Stretch film/knit belt/PVC
Ring speed(r/min)
30-80
30-80
30-70
Wrapping speed
25-35sec/pcs
35-45sec/pcs
40-50sec/pce
Overlapping rate
20-80%
Conveyor for bearing infeeding and out feeding; automatic positioning for bearing; paper, tape, stretch film are available for packaging; automatic material counting and cutting.

Customize Bearing Packing Solution

Feel free contact with our team for bearing wrapping machine, bearing packing machine consultation. We are providing free drawing and recommendation per your need.
Download Brochure
Send Inquiry
Contact us